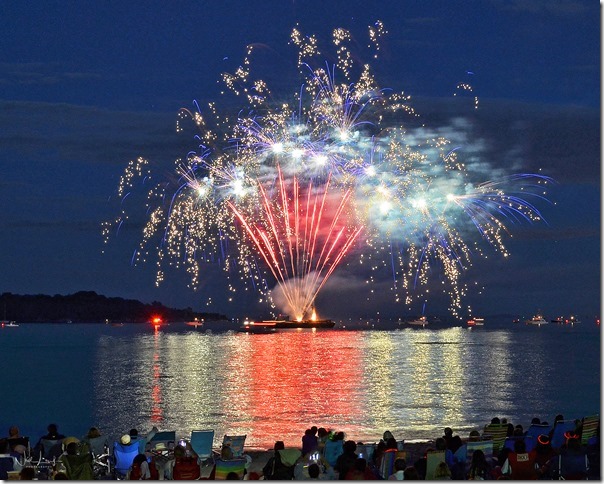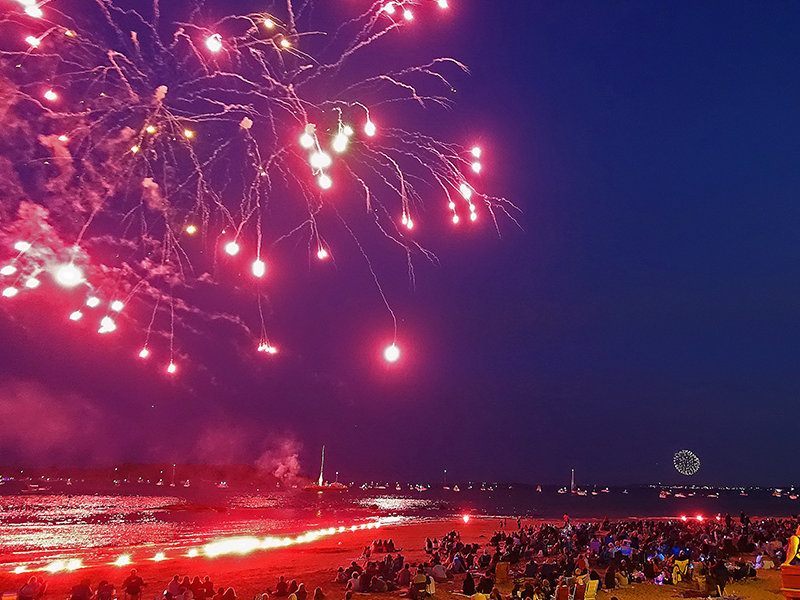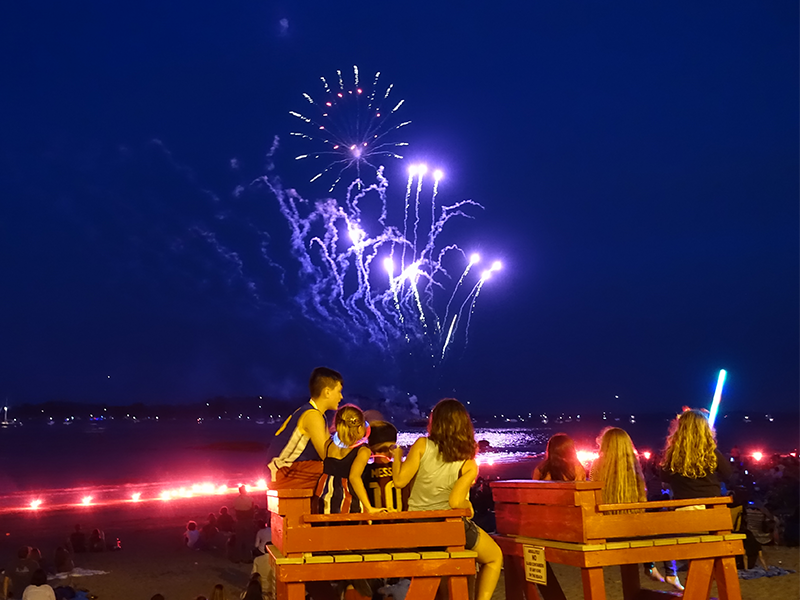 Click on images to enlarge.
Fireworks off of West Beach on the 4th of July have evolved into the marquee event of the Celebration.
Today thousands of people watch the event from the Beach, surrounding properties, and boats.  The aerial display is one of the better known shows on the North Shore – fired from a barge off shore and provided by Atlas PyroVision Entertainment Group, Inc. of Jaffrey ,NH., the Committee's vendor for over 30 years.  Atlas has always enhanced the show each year with new and unique effects.
The fireworks traditional started many years ago, in the early part of the 20th century.  Initially they were fired from the West Beach pier which was build in 1911.  Over the years the pier show was augmented with "set" pieces. These involved stanchions erected on either side of the pier where a firework shot back and forth on a wire and often" pinwheeled" into the air when finished.  These were very popular but also outlawed over the years as regulations surrounding aerial fireworks were tightened.
Since 1979, the show has been fired off of a barge as the West Beach pier was destroyed during the infamous "Blizzard of 1978".  The decision was made to use barges for future shows which brought marine regulations into the fold and the need obtain a permit from the U.S. Coast Guard.
As fewer communities offered fireworks as part of their celebrations, more people looked to Beverly Farms to see a show.  This brought into play the real need for enhanced security measures for crowd control and safety reasons. The regulations in play currently are the result of annual discussions with the Beverly Police and Fire Departments along with the Coast Guard.  We hope you understand
Please enjoy the show and let us know if you have any questions!
Please check out our fireworks vendor Atlas Pyrovision and its video of the 2018 Da Nang International Fireworks Competition where it represented the United States.